High-quality Dairy Producer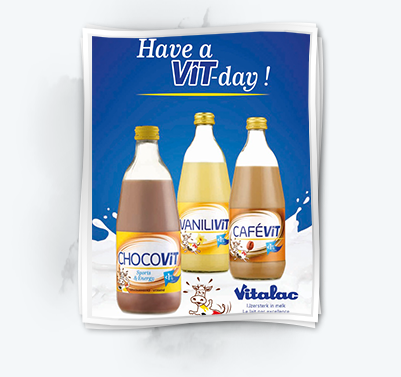 VITALAC is a Belgian dairy producer with a vast range of quality products. Situated in the rustic Veltem-Beisem, Vitalac has remained to be one of the last private enterprises. Since its establishment in 1942, 4 generations went through the line of business, accumulating a significant amount of experience within the dairy sector.
Vitalac produces
as well own brands (Vitalac, Chocovit, Vanilivit, Jojovit..) as
under
Private Label
.
For questions concerning a concrete project Vitalac can be your partner. If you would like to have more information please do not hesitate to
contact us

Our Products
Since several years Vitalac has specialised in the production of sterilised milk- and dairyproducts.
Some of our famous products are Chocovit and Vanilivit. Chocovit is a skimmed Chocolatemilk that contains Vitamins and Vanilivit is a delicious Vanilla milk.

During the development of new products Vitalac always aims for a good balance between a goed tast and a restricted number of calories. Further more Vitalac produces several other product like Cream, Coffeemilk and Consumptionmilk.

If you would like to see more information about our products please click here.


| | | | |
| --- | --- | --- | --- |
| | | | |
| | | | Would you like to receive more information about our products? Do not hesitate to contact us |